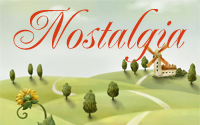 .My
Nostalgia
entry for today is an old photo ,as in old and some of you might not be born yet when it was taken. at my grandmother's front yard in one of my summer vacation at the province. I was like 14 or 15 years old only here.
If you notice skinny jeans are the fashion trend that time.And yes, I have chicken legs as my husband fondly called .I grew up with a long black shinny hair and I still remember my mom always put tight scrunchies on my hair before I go to school during my elementary days. I just had it cut and styled when I was in high school for some trendy haircut.
Visit
Nostalgia
for more stories that will make you reminisce some of the past memories of your life.